| | |
| --- | --- |
| Restrained Orgasm Denial Ice Cream Panty Fill! | |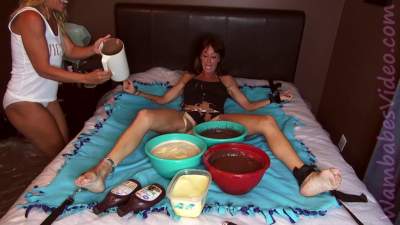 Starring these models:
"Jayce wakes up, find herself tied to the bed, panties filled w/ ice cream"
| | |
| --- | --- |
| File count: | 1 |
| Total size: | 918.92 MB |
| Runtime: | 21 mins |
| Released: | 10/09/18 |
| Produced: | 2018 |
| Views: | 2752 |
| Scene ID: | 30915 |
| Producer: | Ariel |

$14.99



Ariel has a fun surprise planned for sleeping Jayce! She has 4 point restraints on her bed and the plan is to quietly restrain Jayce to the bed while she's asleep, then wake her up by pouring melted ice cream into her cotton full bottom Calvin Klein panties! She pulls the blanket off of her and quietly creeps around her, strapping her wrists and ankles to the bed! Quietly, she picks up a pitcher of cold melted ice cream and fills up the front of Jayce's panties, waking her up with a gasp! She keeps filling her panties with more and more ice cream and chocolate syrup and brings out a vibrator to tease her and make her beg for more, make her beg to be able to get off! She pulls the panties down and uses the vibrator on her messy pussy and when she's satisfied that she's messy enough and she's begged enough she lets her cum!

Now it's Ariel's turn! She wants to try it too! She climbs onto the bed and lies down in the mess to let Jayce restrain her to the bed. Jayce fills her white cotton Calvin Klein panties with lots of cold melted ice cream and chocolate syrup, rubs all over her with her hands and body and then teases her with the vibrator too! So much orgasm denial they can barely stand it, but the mess feels so good on their pussies so they don't even care! They just want to get messy and cum!

Report