| | |
| --- | --- |
| Hooter's Girl Revenge--Maid Torture Time! | |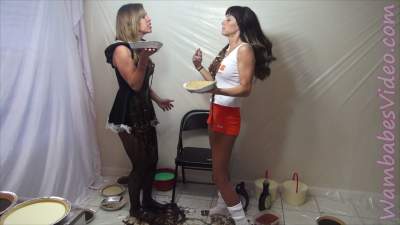 Starring these models:
"Both vieing for a man, Jayce + Ariel get into a messy tit for tat fight!"
Ariel and Jayce are both ready to work the room at a dinner for wealthy men! They both had the same idea, to dress in revealing clothing! Jayce wears a Hooter's uniform and Ariel a French maid costume, both are in pantyhose! Clumsy Jayce spills food on the front of Ariel's costume and Ariel gets so mad at her that she retaliates by squirting a can of whipped cream into her tank top and that's when things get crazy! She pies Jayce in the chest and then Jayce pours a bottle of chocolate syrup all over her dress! Both women then get pied in the face and that's when Jayce takes control of the situation and pulls Ariel's tits out and pours eggs on her! Ariel pulls Jayce's shorts down and fills her tights with chocolate! More clothes stripping and more mess! Lots of cold melted ice cream and sloppy batter! More pies, beans and ranch dressing!
When it's all said and done Ariel vows revenge!
| | |
| --- | --- |
| File count: | 1 |
| Total size: | 746.33 MB |
| Total runtime: | 14 mins, 41 secs |
| Date added: | 1/12/18 |
| Year produced: | 2017 |
| Views: | 2447 |
| Scene ID: | 26514 |

$7.99




Report