| | |
| --- | --- |
| Nude Mud Twerk and Hump W/ Ariel--Jeans to Naked! | |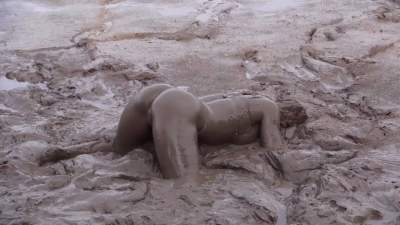 Starring the following model:
"Ariel muds up jeans and top, strips nude and twerks and fucks the mud hard!"
| | |
| --- | --- |
| File count: | 1 |
| Total size: | 275.36 MB |
| Runtime: | 12 mins, 33 secs |
| Released: | 6/18/17 |
| Produced: | 2017 |
| Views: | 9730 |
| Scene ID: | 23144 |
| Producer: | Ariel |

$8.99



Ariel is at the mud spot for the first time this summer and she's frisky as fuck and ready to play! She's in a pair of light blue, super tight skinny jeans, a white thong, light colored t-shirt and white bra standing on the banks of the mud pit with her swim ring--the swim ring has the words "Mud Master" printed on it...so fitting for what she is about to do! She tosses it into the mud pit and then carefully attempts to jump into the middle of it! This doesn't work out very well for her but she doesn't care, she's in the mud pit--it's time to play! She lies back and starts to kick her feet around, mucking up the thick and creamy mud with her legs and feet. She rolls around and smears mud all over herself and then gets up to climb back out of the pit for attempt #2 with the swim ring! Again it doesn't go quite as planned and she just ends up on her ass in the thick mud! From then on things get heated really fast! She really starts to get into her mud romp, getting hotter and sexier with each passing second. She smears mud all over, destroys her clothes and then starts to strip out of her clothes, jeans off, then top, then bra until she's just wearing a tiny thong. Ariel's ass has gotten much bigger lately from copious amounts of deadlifts, and while she's on her hands and knees she begins to realize that she can twerk now! She buries her face in the mud while she's wiggling her ass cheeks all around! She turns around so you can get a perfect view of her ass and pussy while she shakes her ass around! After lots of twerking, more playing in the mud and more twerking, she starts fucking the mud hard on her hands and knees! Loving the feeling of the mud slapping against her pussy, she humps it harder and harder! And finally, satisfied with her romp in the mud, she climbs out of her pit with a big smile on her face!

Report