| | |
| --- | --- |
| Cakes and Pies in Sexy Dress and Black Tights! | |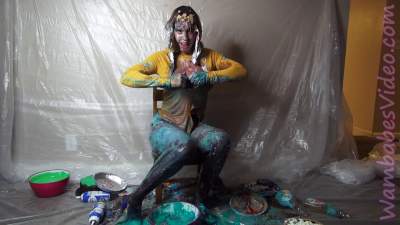 Starring the following model:
"Ariel sits in Cakes and Pies, Self Pies, Sloppy Mess and Rips Her Dress!"
| | |
| --- | --- |
| File count: | 1 |
| Total size: | 578.79 MB |
| Runtime: | 19 mins, 48 secs |
| Released: | 10/03/18 |
| Produced: | 2017 |
| Rating: | |
| Reviews: | 1 |
| Views: | 1956 |
| Scene ID: | 30798 |
| Producer: | Ariel |

$8.00



Ariel gets all dressed up just to get all messy! She is wearing a pair of patterned black tights and black slingback heels with a tight yellow bodycon dress. She's surrounded herself with lots of sweet messy foods--fruit filled pies, big cakes with extra icing on top, maple syrup and colorful cake batter. She bends over and pours syrup all over her pantyhose covered ass and then puts one of the cakes on the chair and sits her ass on the cake, squishing it completely. She pours more syrup on her dress and rubs the icing all over her ass. She rubs mess all over her tights and then puts a pie on the chair and sits in it! She takes off her heels and puts her feet in a bowl of blue batter, rubbing it all over her legs and feet. She pies herself in the face with a sloppy blueberry pie and then pulls out a pair of scissors and begins to cut and rip her dress, tearing it from her body. Now topless, she fills her tights with cake batter and then places a big chocolate cake on the chair, pulls her tights down and sits her bare ass and pussy down on the cake, smashing it like a pancake! She pulls her tights back over her messy ass and then sits and pours the green batter over her head, covering her face completely in gooey slime. She sits on the floor and plays in the mess she's made, rubbing her feet in it and making the mess even sloppier, then finally she removes her tights and she's naked in her mess!