| | |
| --- | --- |
| Ariel and Jewel Get Greasy! Clothes Ruined and Ripped! | |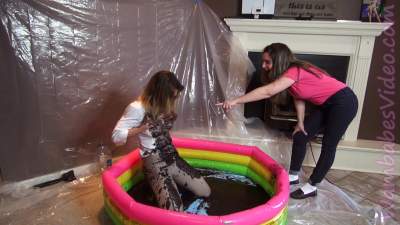 Starring these models:
"Ariel 's comment gets Jewel to shove her in the grease! Get in here Jewel!"
| | |
| --- | --- |
| File count: | 1 |
| Total size: | 569.67 MB |
| Runtime: | 9 mins, 50 secs |
| Released: | 3/25/19 |
| Produced: | 2019 |
| Views: | 1897 |
| Scene ID: | 34179 |
| Producer: | Ariel |

$7.99



Jewel is back and ready to get messier than ever! Some of you UMD veterans will remember my good friend Jewel! She is one of the original Wambabes way back when the site first opened... when we were a members' pay site, shot photos instead of videos and most of us were still on dial-up internet lol

because of circumstances beyond her control, Jewel could no longer be on Wambabes and we were so sorry to see her go! Now those circumstances are no longer an issue and she is free to Wam to her hearts content! She has been doing lots of messy customs and having a blast getting messy again! She's been doing some slapstick, pie fights, some sexy Wam and Wetlook in her backyard swimming pool!

This video was a fun one for us to film! Ariel and Jewel are dressed in outfits that they really like. Ariel is wearing a nice pair of tan slacks with a white button up blouse and Jewel is wearing a pair of nice jeans and a pink polo shirt. Both ladies are wearing their white socks and penny loafers. When they walk into the room they see something strange. Someone has set up an inflatable pool and left a dark colored puddle of mystery goop! They get a little closer to investigate the mystery goop, leaning down to smell it and realize it's not very pleasant and it looks very oily and greasy! Ariel then makes a snarky comment to Jewel about the puddle being almost as greasy as the skin on her face and Jewel gets offended and shoves Ariel in. Naturally, Ariel is very pissed off at her clothes being ruined in grease so she pulls Jewel right into the puddle with her! This begins a back and forth clothes ruining session between the two women! They are trying very hard to make sure each others clothes are completely destroyed without a stitch of clean left on them! They're ruining loafers and making crisp white socks turn black, filling the shoes up with greasy mess! They rip each others shirts off, exposing messy tits! They both strip off all of their clothes and you can see how greasy the substance was glistening on their naked skin!

Report